Thames Valley Fly Dressers
THAMES VALLEY
FLY DRESSERS
BRANCH OF FLY DRESSERS GUILD

Another great day out on the Test.
Like last week it started cold with frost on the ground - nymphs were the order of the day. Jonathan was fishing for grayling for the first time and caught two fish almost instantly at the bottom of the beat - these fell to the disco shrimp. The morning was slower than last week and there were more trout than grayling caught - that said by lunchtime we all had fish. The hatch started at lunchtime and following David O's observation last week of the hatch being Pale wateries a couple of us switched to Tups indispensable flies. The fishing was prolific with fish rising all around us on the upper beat. It was like mayfly time . In some cases your cast was going in between 4 rising fish at once. If you have not tied some of these in size 16 and 18 get busy because if there is a hatch on the 17th you want to be prepared.
John A caught fish on all of the three flies we tied on Thursday - a scud, brassie and painted lady with a notable 39cm grayling being his last fish of the day on the painted lady. Roger also got his best grayling on the scud we tied at the Flowerpot.
Overall it was another great day - we probably got close to 70 fish again but with a much higher percentage of trout.
Tight lines
Richard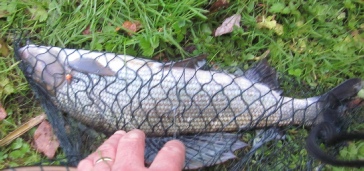 Saturday 3rd November 2012